End to End Account Opening Solution
Hashtag
EndtoEndAccountOpening
Individual Establishments and Sijil
The Service
A part of the Bank's ongoing efforts to simplify customer's money matters and transform the traditional customer experience, Bahrain Islamic Bank introduced a mobile account opening solution for Individual Establishments and Virtual Commercial Registration (Sijili) maintaining an active commercial registration status with the Ministry of Industry, Commerce and Tourism of the Kingdom of Bahrain. Depending on the device used, the BisB Digital App can be downloaded / updated either from Google Play (Android ), Apple (iOS) or Huawei store. Once the App is successfully installed and activated, click on the "Corporate" tab, scroll down a bit, click on "New Corporate to BisB? Or Resume Your Application" to initiate the process. The system will request you to provide your CR number and the branch code. The only identification document required to complete the process is Owner's Smart Card.
Once the account opening step is successfully completed within minutes, the customer will also have the option to request a free ATM and / or a Prepaid Card which will be delivered to customer's registered address. The cards issued by BisB are NFC (wifi) enabled which makes it easier for customers to make any payment of BD50 and below by simply tapping on a payment device. For further convenience, the account can also be registered with BENEFIT PAY.
In order to fully eliminate the need to visit a physical branch even in future, the customer will be instantly enrolled in BisB's ebanking which will help Individual Establishments and Sijilis to view, download or print their statement of accounts at no additional cost, make local and international transfers, pay their bills, create deposit accounts to earn profit on their excess liquidity and many more.
The digital service caters to a variety of segments including entrepreneurs, start-up businesses, Instagram-based businesses and home businesses (Sijili), simplifying their money matters while enabling them to swiftly go about their daily business with increased efficiency.
Please visit http://www.bisb.com/corporateonboardinguserguide to view step by step user guide. If you are familiar with the service then click on https://www.ebisb.com/dw to start the onboarding process directly.
Simplifying Customers' Money Matters
BisB's DNA, which is comprised of the Bank's brand promise, values and guiding principles, came as a result of the Bank's Bahraini roots and commitment to continuously craft new and innovative ways to simplify customer's money matters and transform the traditional customer experience. Powered by the devotion of its local workforce, BisB will continue to push boundaries by launching simple and innovative products and services to enhance the customer experience and elevate the standards of banking in the Kingdom of Bahrain.
User Guide - End-to-End Mobile Account Opening Solution for Individual Establishments and Sijilis
Step 1 – Download The Mobile Application
Click the below link to securely download the BisB Digital App on your mobile
https://www.ebisb.com/dw
Note: Unless your device is set on auto update, please update the BisB Mobile Application by visiting the relevant store to enable the corporate account opening feature in your device.
Step 2 – Enable Permissions
Once the BisB Digital App is installed and launched, it will request you to enable permissions to take pictures and record videos, access device's location and allow BisB to record audio. Kindly enable these security permissions to have a smooth account opening experience.

Note: If you are an existing user of the BisB Digital App and have already enabled these permissions, you may skip this step.
Step 3 – Choose Corporate Tab
Once the App is open, choose 'Corporate Tab'.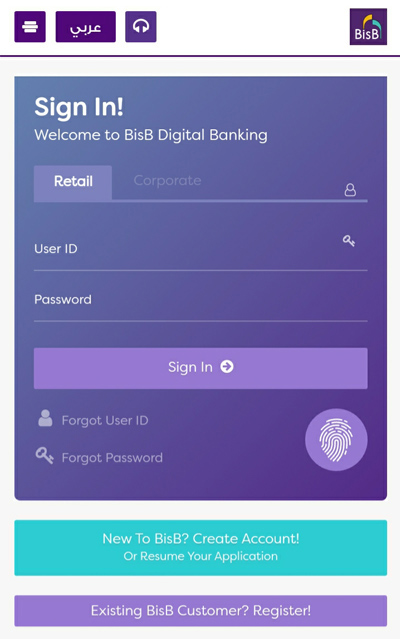 Step 4 – Click on New Corporate to BisB? Or Resume Your Application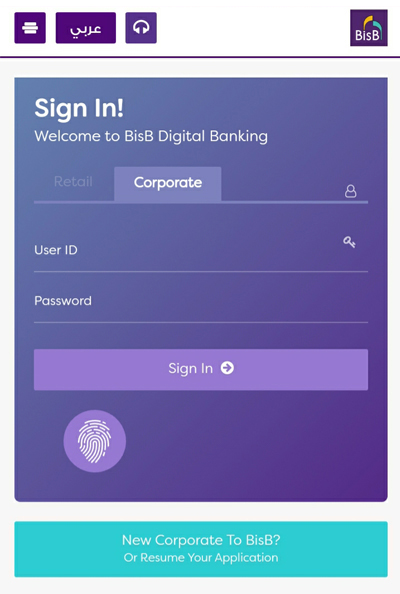 For support, call (+973) 1751 5155 or email cib@bisb.com.