14 March 2021
BisB wins the platinum "Marketing Effectiveness Award"

Bahrain Islamic Bank (BisB) recently won the platinum "Marketing Effectiveness Award" at the Summit International Awards 2020. The award falls under the social media category in which BisB's 'End-to-End Mobile Account Opening through Face ID Authentication' service was recognized.
The award was granted to recognize the social media strategy outlined to launch the End-to-End Mobile Account Opening through Face ID Authentication. Through the service, customers are able to open an account in less than 5 minutes without ever having to visit a branch. By simply downloading the "BisB Digital" application, and using the facial recognition feature, the entire process is streamlined through a fully automated, and paperless process, providing the ultimate convenience to customers.
When customers register to use the digital feature, they are prompted to upload necessary identification to ensure the highest level of security is maintained. Upon verification of information, customers will be able to immediately sign up for any of BisB's products or services, enjoying a hassle-free and comfortable banking experience.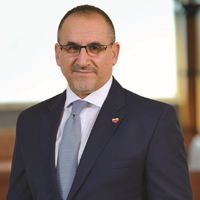 Commenting on the achievement, BisB Chief Executive Officer, Mr. Hassan Jarrar,, stated: "We are very proud of the latest addition to our record of outstanding achievements, which is reinforced by this internationally acclaimed award. This would not have been possible without the exceptional effort of all teams who contributed to this accomplishment. By harnessing our resources, an effective marketing strategy was put in place to launch the 'End-to-End Mobile Account Opening through Face ID Authentication' across social media." This service comes in line with BisB's commitment to simplifying all customers' financial matters and leading the financial sector in the Kingdom of Bahrain, through digital and innovative solutions."
The Summit International Awards has been organized every two years since 2003. It is a global competition that includes representatives from 168 countries wherein the best apps and electronic content is recognized. It also focuses on multimedia projects that will effectively and uniquely influence the development of cultural, scientific and educational content, and is also one of the events under the World Summit on the Information Society.
Back